research: A case of a Lapsed Theorist
Having graduated from the University of Sheffield with an MPhys in Theoretical Physics in July 2004, I stayed on as a researcher in the physics department in the Low Dimensional Semiconductors and Devices (LDSD) group. My PhD thesis "Intraband studies of negatively charged self-assembled quantum dots" was first submitted in July 2008, examined at my viva in September, corrected and resubmitted in December 2008.
Physics… The fundamental science. The science of matter and its motion, as well as space and time. Physics is the study of the world and the universe around us. The trouble with physics, one might say, is that a lot has already been done!
Thus 1, to study for a Doctorate in Physics requires a narrowing of the field such that one can become an authority on it. In a geeky way, this cartoon from PHD Comics says it all: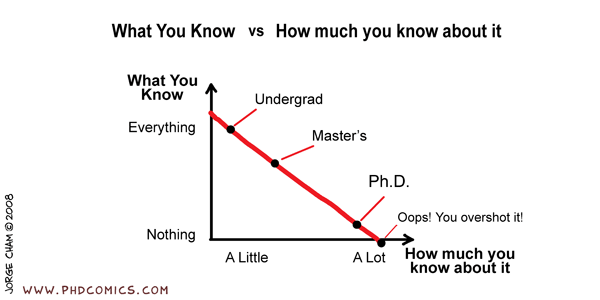 These pages provide an introduction to and an overview of the Ph.D. thesis of a student who was taught theoretical physics, continued in research in experimental physics, but in the end moved on to other things.
From this course of events, I will forever be a lapsed theorist 2.
[1] The starting word of almost every sentence of a favoured undergraduate lecturer at Sheffield, a small tribute to the late Colin Stoddart
[2] I was asked, by Gillian Gehring, whether now I had moved on from an undergraduate theoretical physics degree I considered myself a lapsed theorist. An appropriate label, I feel.
A simple guide to Low Dimensional Semiconductor Physics, written specifically for the non-physicist reader.

A summary of my key paper, published in October 2006, that looked at the effects of magnetic fields on the electron-phonon interaction in quantum dots.