Climbing in Kalymnos with PlanetFear
Becky and I went on the last PlanetFear Coaching holiday to the idyllic Greek island of Kalymnos. Both hoping to push our grade, we had a great time under the critical eye of Steve McClure and Katherine Schirrmacher who were both fantastic. I cracked F7b+ on redpoint on my third try, but watch this space as there's definitely more to come where that one came from.
Steve McClure wrote a short report on me as part of the holiday; here's an excerpt:
Ben and Alan were obviously the big guns this week. Ben had 12 years indoor experience with steep plastic pulling but barely any outdoor routes to his name and no real foreign climbing at all. A Foundry regular he can be seen cranking out the most severe of problems most days of the week. Alan had already redpointed 8a. Need I say more? This was gonna be interesting…
…this was all too comfortable for him and we dragged him well out of the comfort zone scaring him plenty which was, in his words 'just what he needed'. He also wins 'lob of the week' after utterly fumbling a clip and taking a thirty footer!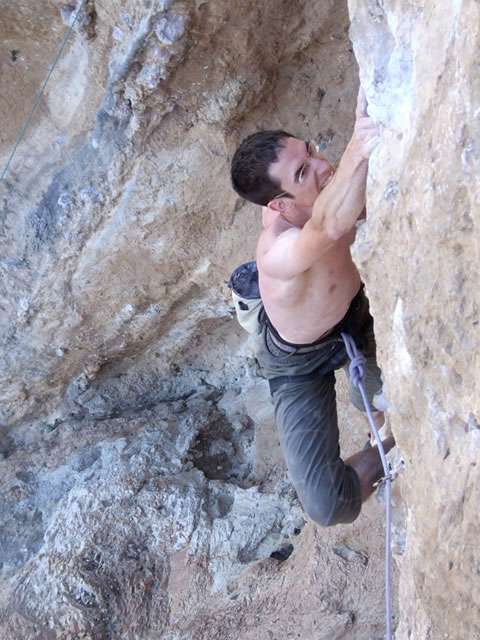 Me, climbing Spartacus F7b+, Kalymnos. Steve McClure took this photo and I'm very grateful for it. I've never had such a close-up of myself climbing before, it shows the level of concentration and effort I had to put in to get the route. Here, I'm just pulling onto the upper wall having done the crux and making sure I get the whole sequence nailed so I don't blow it!